We offer various possibilities. We encourage anyone who is interested in volunteering, be they young or old, experienced at dealing with the elderly or not. Whether in full-time employment, studying, still at school, unemployed or retired, or with children, dogs or wheelchairs - all are welcome.
Look forward to new experiences and the joy and gratitude of our residents to whom you devote your time and attention.
Just being there
Sometimes that's all that's needed. Spend an hour or so a week with our residents. Have a chat over a cup of coffee, read to residents in the sunny garden, or enjoy a stroll in the grounds. Our residents have experienced so much that they have a lot to share and for you to discover. To make sure that you feel at ease, our volunteering coordination officer will seek a resident best matched to you personally, and will be there when you get to know each other. Many long friendships have been forged in this way. We are confident that we will find a great person for you too.
Help organise group activities
Have a laugh together - a weekly sociable get-together over bingo, board games, card games and so forth is a great way of sharing fun. If you are a keen player of parlour games, choose one from our large selection and get going.
Do you play an instrument? Do you enjoy singing? Or do you like to read poetry and prose aloud? Making music and enjoying concerts is just as popular as our literary groups. Keep-fit, qi-gong, yoga and chair dancing are among the firm favourites at MÜNCHENSTIFT.
And if you are a craftonista, we have all kinds of materials to let you share your enthusiasm with our residents. What do you do well and enjoy doing? We always look forward to new ideas and suggestions that we can develop together.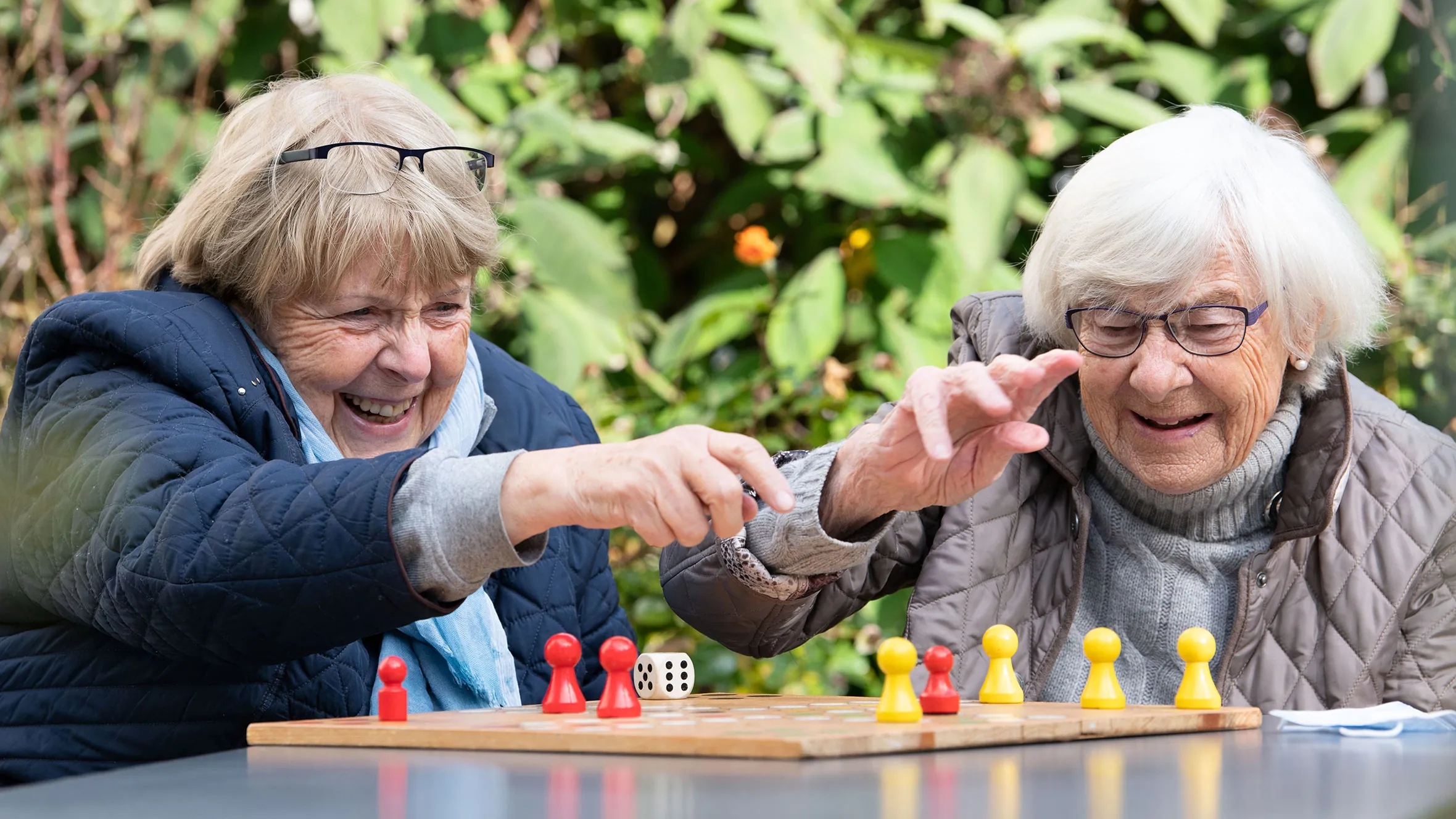 Manage or support projects
Go with residents to the doctor, to the shops, or to the optician. You provide residents with assistance and prevent any agitation. With your support, even more residents are able to join organised excursions, whether to the zoo or to enjoy a giant pretzel at the Oktoberfest. Apart from outings, parties, events and activities are held indoors throughout the year at which a helping hand is always welcome.
We also appreciate support with new projects and initiatives that we devise for the residents in our homes. Creating raised beds, building an animal enclosure, or organising fashion shows and vintage car displays - you will be amazed at what is afoot in our residences.
Volunteering with us
A helping hand
To ensure that your start with us is a success, our professional volunteer coordination team will take care of you on site. After an initial discussion, we will find you a job or introduce you to suitable residents.
We will help you get started and are always available to answer questions.
As a volunteer, you are insured with us.
On volunteer days, you will receive discounts in our cafeterias.
We will pay all costs incurred by arrangement.
Numerous volunteer meetings, events and training courses are available to you free of charge.