Green care
Originally launched as a project in Alfons-Hoffmann-Haus, green care - which has its roots in the agricultural sector - now enjoys a firm place in all our retirement and care homes.
While the so-called green care farms in Austria and the Netherlands focused mainly on ecological and sustainable aspects, over time green care has come to mean much more. Nature, plants and animals are part of an approach to provide stimulus and support to people in need of care. The approach is based on scientific findings - and its success is proved daily in our residences.
What is green care in the context of long-term care?
In this context, the green care approach covers all physical, educational and social activities and supportive measures in which nature, animals and plants play a role.
MÜNCHENSTIFT tested the approach at Alfons-Hoffmann-Haus and it has proved to be successful. Aspects of green care are therefore being used increasingly in MÜNCHENSTIFT's other care and nursing homes.
Why does MÜNCHENSTIFT use green care?
Scientific studies show that experiencing nature has lasting positive effects on the body and soul. Green care elements also arouse the curiosity of people in need of care. Observing or interacting, for instance, with the animal world stimulates the brain, evokes positive emotions and creates a bond with nature.

The more diverse and varied the green care, the greater the positive associations and sensory stimuli. Discovering aspects of nature provides a topic of conversation for residents, relatives, employees or volunteers. A permanent benefit of green care is generated when residents, relatives and visitors, employees and institutions work on the subject together.
Landscaping and building conversions
In order to enable our residents to experience green care aspects at first hand, over the past years MÜNCHENSTIFT has carried out some structural and conversion work in its retirement and care homes.
This includes a new landscaping concept for the outdoor areas of our residences. Impervious surfaces are greened over by planting berry bushes, fruit trees, rose bushes and other kinds of shrubs and are replaced and extended as necessary. Animal residents are accommodated in the henhouse or guinea pig hutch. The addition of benches, sunbeds and parking areas for walkers encourage residents to linger and experience nature to a greater extent.
Pets are now expressly welcome in MÜNCHENSTIFT residences. Several dogs and cats already live with their owners in our residences and the trend is on the rise. We receive regular visits from chickens, sheep and alpacas.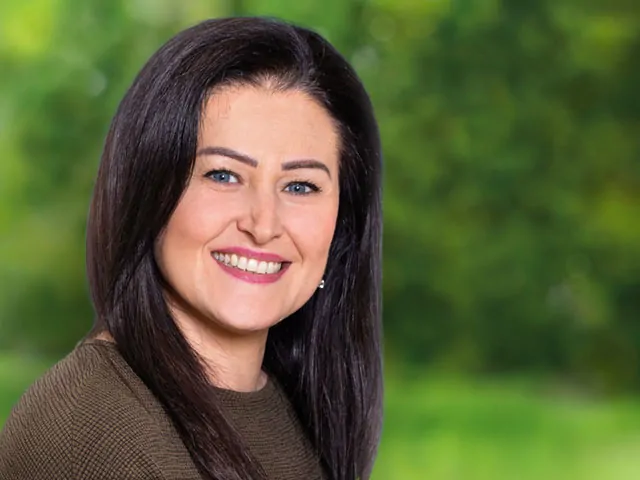 Further development of our care services
"Our green care concept is aimed at developing our
gerontopsychiatric care services for
residents with dementia."
Selda Ikonomou
Residence manager, Haus an der Rümannstraße