They are Sendling's prominent landmark: the bell towers of St. Josef, dating from the late 1920s. The extensive complex with impressive staircases and corridors, beautiful terraces and park-like garden combines the charm of a historic building with modern technical facilities. Many of our residents lead largely independent lives in our serviced living accommodation. We offer various activities for you to join in with.
The residence serves as an attractive cultural centre for the entire Sendling district. Old and young alike attend adult education classes run by the Münchner Volkshochschule, and everyone in need can use the services of the rehabilitation centre situated on the premises. Centrally located on the restyled Luise-Kieselbach-Platz, the residence is easy to reach by underground and bus.
Our care - tailored to your needs
Our residence provides tailored care, if necessary in our gerontopsychiatric care units that take into account the severity of dementia, or in our protective care unit for people with a tendency to wander. In all, 242 places in single and double rooms are currently available.
Caring for PVS patients
We aim to make the most of the activation potential of patients in a Phase F persistent vegetative state. The patients' well-being is promoted by encouraging mobility and sensory perception, by training the ability to chew and swallow and communication skills. We advise and support relatives in close cooperation with experts and self-help groups. Specialists and experienced doctors are responsible for the medical care of our PVS patients.
Living an independent life - in safety and security
You would like to stay in control of your life in old age, and above all, to enjoy it to the full. This is best achieved when the right prerequisites are provided, starting with a secure home in which you feel at ease and can do as you please without any restrictions. Opportunities and activities are an important aspect for singles, couples and groups alike to add spice to life, making it interesting and multifaceted, or in other words, liveable.
Precisely these benefits are offered to you in our serviced living accommodation in St. Josef with comfortable apartments, on-demand services, regular activities and fixed contact persons.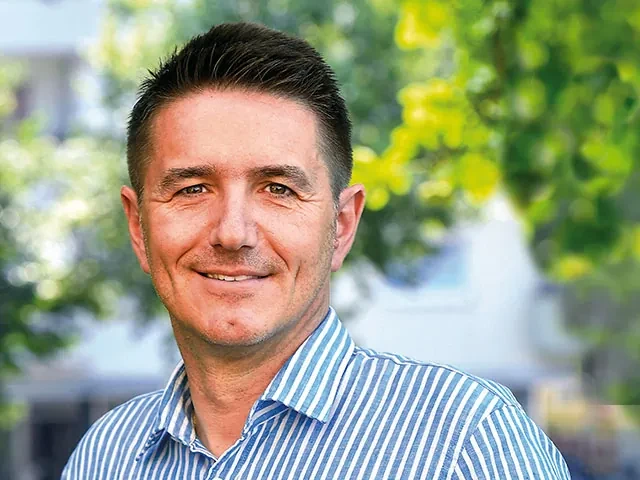 Respectful conduct
"We place particular importance on showing our residents respect and appreciation. People can feel it - they enjoy living here."
Predrag Savic
Residence manager, St. Josef