Our mission is to positively shape and improve quality of life for elderly people in need of care. We therefore attach great importance to professional quality, which we continuously audit and improve. However, our mission goes further than this. Personal care and attention enjoys a special status in our eyes, nurturing the good relationship between those in need of care and the caregivers. Our care service is therefore organised in small, permanent primary nursing teams.
Values-based care
Ethical values are the basis for our actions: our nursing and care concept helps us to implement them in the concrete care situation. We always keep our vision firmly in mind:
Because we are Bavaria's most modern and best care provider with the proudest employees, the happiest residents live with us.
Our care concepts
More respect, more enjoyment of life
We want you to lead as independent a life as possible with us, keeping cherished habits and in tune with your abilities and personal needs. We therefore cater for people with different backgrounds, religious beliefs and sexual orientation, taking into account their individual biography and identity: our care is culture-sensitive. And we routinely involve nature - plants and animals - in our care. Our green care therapeutic concept emphasises experience with all the senses and a spirit of community in our residences - for more enjoyment of life.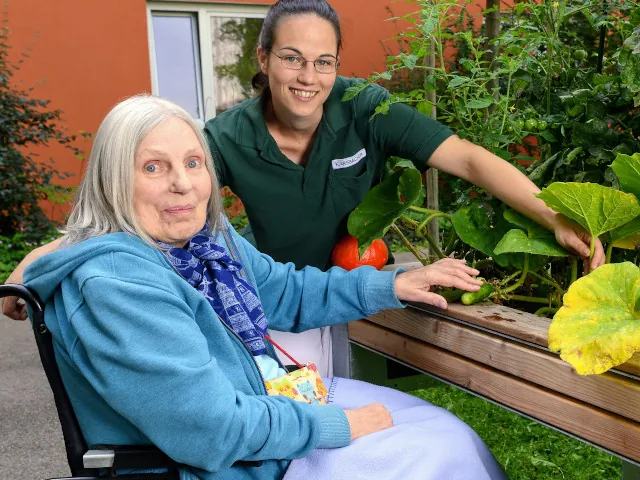 Primary nursing: more attention and personal care
"The people here take a personal interest in me and I get on well with the staff that looks after me."
say our residents in a survey