Culture-sensitive care and cultivating diversity
A home for everyone
Being in control of your life is an essential prerequisite for a happy life. But what does that mean exactly? In terms of our care and assistance, it means that people of all social and cultural backgrounds, ethnicity and religious affiliation, gender identity or sexual orientation are welcome in our residences.
Respect for one and all
Our residences are open to everyone. No matter how diverse the biographies of our residents and employees may be, we treat each other and everyone else with respect. We address the different needs of our residents. Our employees take part in culture-sensitive training: while they are trainees, while they are learning the ropes and while taking part in courses.
You belong with us
The interior design of our residences, such as the Mediterranean ambience in Heilig Geist and community and prayer rooms for Muslims in Hans-Sieber-Haus, engages with the needs of our residents. Interpreters and translators assist us when we have to tackle language barriers. We also offer a wide variety of art, culture, entertainment and further education activities for our residents. Everyone is able to settle in with us and play an active role in our lively community. A sense of belonging makes us happier.
Curiosity about other worlds
"Tolerance towards others has greatly improved. Different cultures, staff, residents and relatives from other cultural groups or lifestyles frequently inspire curiosity rather than prompting a defensive response."
Brigitte Harz-Jahnel
Residence manager, Haus an der Rümannstraße
How we cultivate diversity
Culture-sensitive staff training for and on the job
Training and courses on intercultural elderly care and same-gender lifestyles for staff and apprentices
Further training on ethical principles and political education
Raising awareness through projects such as the "RESPECT - Living and working together without discrimination" campaign
Meals from different cultural regions on our meal plan
Residences with cultural activities tailored to the residences: a Mediterranean ambience in Haus Heilig Geist and a Muslim residential unit, a prayer room and halal food in Hans-Sieber-Haus
Intercultural autumn week in all residences with a total of 26 events (2019) - from African dance to a piano matinée
Intercultural engagement
Currently, 96 per cent of our residents are of German origin, but that will change. Some 28 per cent of Munich's inhabitants hold a foreign passport, and around 15 per cent come from a migration background. This means that care will be multicultural in the future. We are already learning to co-exist and work together in an intercultural spirit. More than half of our staff are of non-German origins.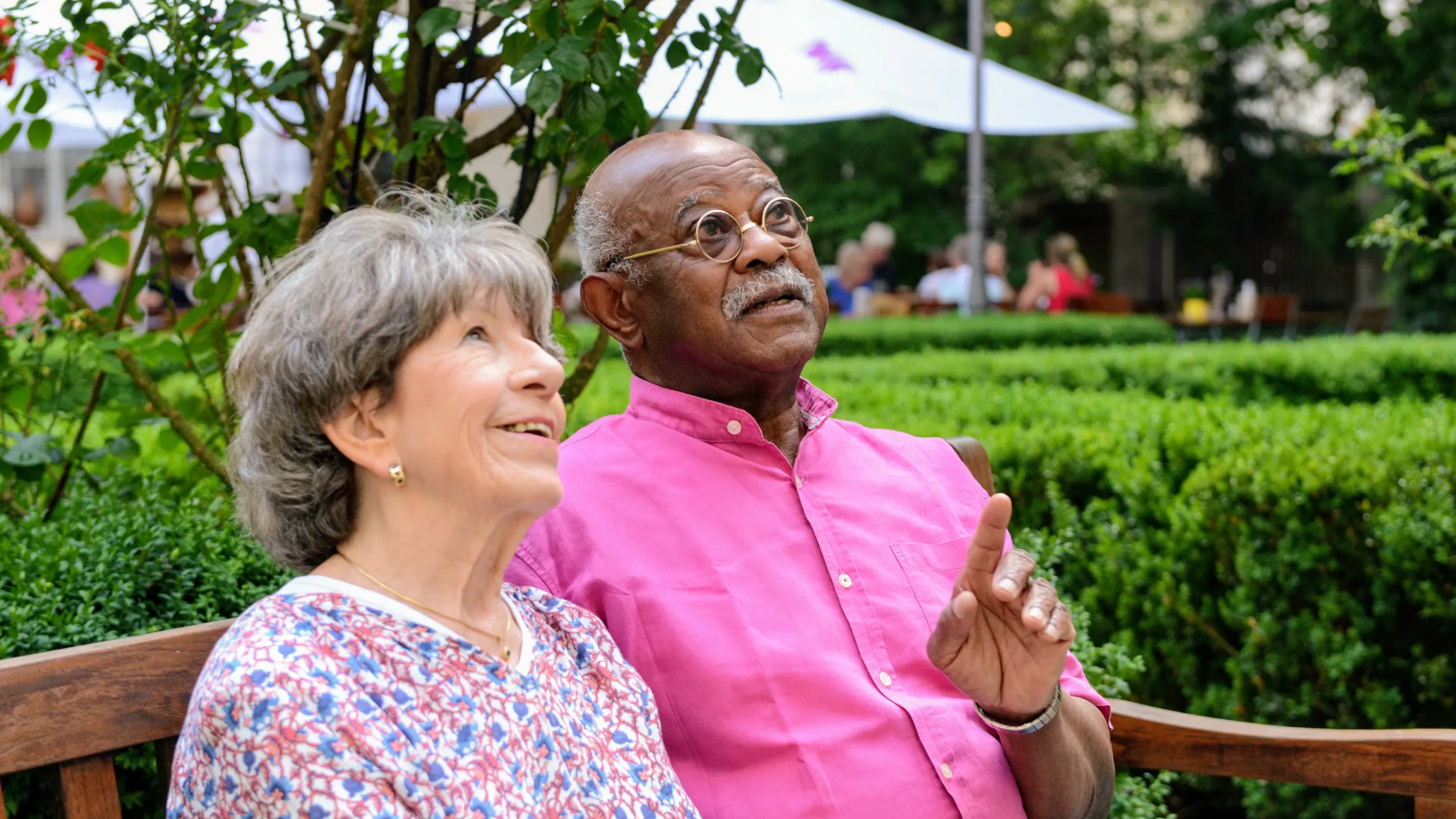 Our intercultural engagement began as a five-year project, initially in three, then four MÜNCHENSTIFT residences. Cultural references to the elderly residents living there were incorporated into the homes. New courses for staff were introduced in order to effectively equip them for intercultural care duties professionally and personally. The catering plan and community events were adapted to take the needs of people with different cultural backgrounds into account.
Over time, the most successful measures have become an established part of the routine in project homes. And they have also been adopted by the other homes. Today, they go without saying across the MÜNCHENSTIFT world.
MÜNCHENSTIFT has come to be regarded as a diversity expert in professional circles and in public. We are happy to pass on our experiences and insights.
Care for lesbian, gay, bisexual and transgender people
Everyone in need of care wants to be respected and to be able to live their lives in tune with their needs and habits. Initially in project homes, MÜNCHENSTIFT began to raise awareness for the care and assistance of LGBTI* people. Staff attended courses to familiarise themselves with the situation and biographies of LGBTI* people. Through events such as exhibitions on LGBTI* topics or ballroom dancing afternoons, residents, staff and visitors were invited and encouraged to engage specifically with the subject.
Regardless of their gender identity and sexual orientation, regardless of whether people come out or prefer to live discreetly, we provide an environment in which they are free to live as they like. After several years of project work, the spirit of open, respectful engagement with LGBTI* people has become part of MÜNCHENSTIFT's DNA.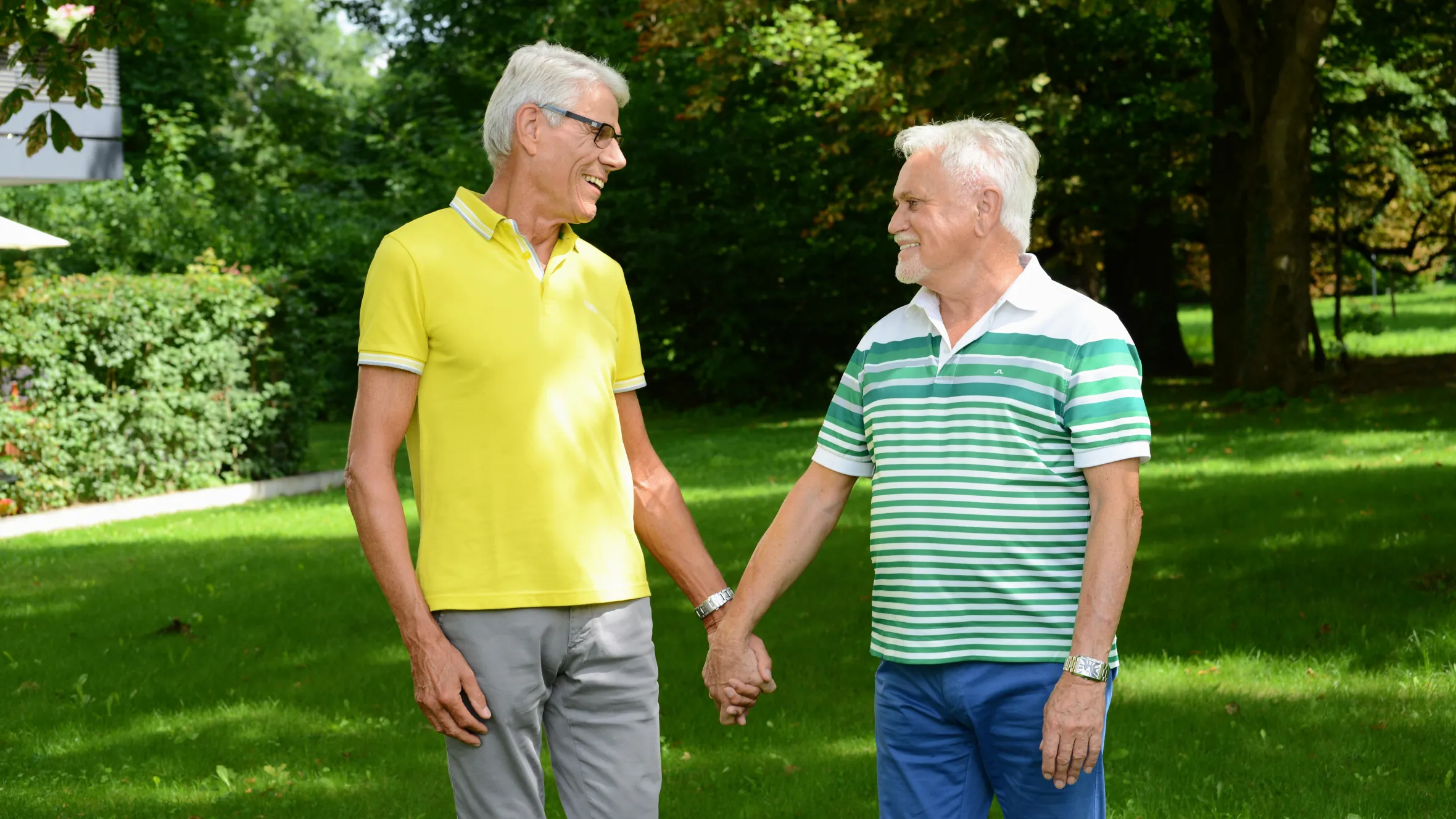 In our homes, LGBTI* residents can live their lives in tune with their needs, while staff enjoy a working and living environment in which they feel respected and appreciated. The monthly LGBTI* social evening is extremely popular and very well attended - also by staff who are not members of the community.